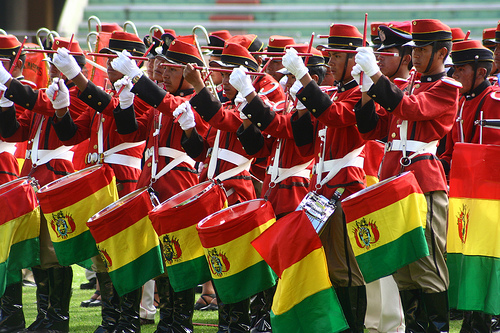 Hola!
This weekend we're having a special South American feel, as we welcome our special friends, Adrian and Anita Lovell (along with Matias, the newest member of their family).
The Lovells serve in Cochabamba, Bolivia, which is a country in South America. They are missionaries with CMS (The Church Missionary Society) and their job is to help Christian leaders grow in their understanding of the Bible, so they can teach and influence others with the great news of Jesus.
To celebrate, we're going to have a special Bolivia night this weekend, with special Bolivian food and trivia during our after-church dinner. So, be sure to turn up at 5pm Saturday 2nd March, and hang around for dinner, which will finish around 8pm.
During our 5pm Saturday and 9am Sunday services, Adrian Lovell will be our guest preacher, and we'll also have a special opportunity to learn more about what these Aussies do in faraway Cochabamba!
As always, we're also having a bunch of questions answered during our services and here they are:
If church is dual-action, then should we avoid running men's dinners, kids' clubs and other community events?
Does God speak to us through the Bible using audible voices or words on our heart, and how do we know it's really him speaking to us?
What does verse 15 mean when it speaks about singing in the Spirit?
Is it good for Christians to be on social media?
Are there surfing beaches in Heaven?
Will there be espresso in Heaven?
If there is technology in Heaven, will it be Apple or Android?
If you've not come before, then this is an awesome weekend to join us. Sunday's service is a little more classic in style, and Saturday night is a little more relaxed and has a bunch of kids and youth programs happening as well. We'd really, really love to see you!
Grace and peace, Jodie.