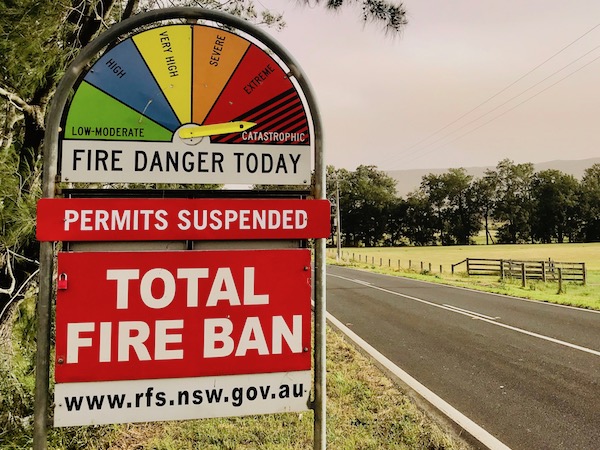 When we woke on Tuesday morning, we were bracing for a fire disaster in the almost-unprecedented 'catastrophic' fire conditions in Jamberoo and our surrounds.
Before I joined my RFS compatriots at our local station to stand by for a fire call, I shared on Facebook a prayer for our troubled country which was written by Archbishop Glenn Davies.
The prayer said, "Father we pray, in your mercy, restrain the forces of nature from creating catastrophic damage; in your mercy protect human life."
As we patrolled the roads and lanes of our valley in our RFS tanker, scanning the horizons for any sign of smoke, we listened to the weather forecast climb from severe to extreme.
I kept praying, and you know what? Nothing happened.
Even though the trees bent over from the high winds, and the temperature rose to high 30's, and the humidity fell to single figures, there were no fires, no damage, and most importantly, no loss of life.
God powerfully answered our prayers, and we have so much to rejoice for.
At times like this where we are spared from disaster we can be tempted to think that nothing spectacular happened: after all, it's just another day without a terrible fire.
But as we asked, God has answered.
Yet, as we give thanks to God for powerfully and mercifully sparing the Illawarra from fire destruction, there are many thousands of people suffering as we speak from the effects of fire in our land.
Knowing how wonderfully God answered prayer on Tuesday in our valley we can confidently pray that God will protect property and lives in the coming days and weeks.
And above all, that whatever happens, we might find comfort in the Lord who is powerful, merciful and gracious.
JODIE McNEILL
https://jamberooanglican.com/wp-content/uploads/2016/04/MainJamberooAnglicanLogo3-01-300x85.png
0
0
Jodie McNeill
https://jamberooanglican.com/wp-content/uploads/2016/04/MainJamberooAnglicanLogo3-01-300x85.png
Jodie McNeill
2019-11-14 20:35:27
2019-11-14 20:35:37
Everyday Miracles