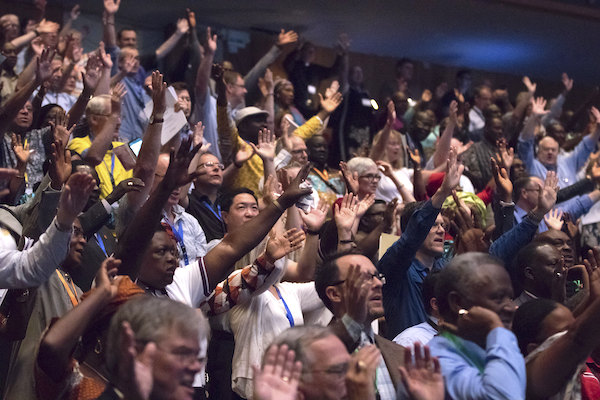 The third of our six church values states that, "we are missional in our outlook, as we recruit, train and send people and resources to proclaim the gospel locally and globally."
In his final words in Matthew's Gospel, Jesus tells his disciples to go and make disciples of all nations, and so continue in this mission today.
We long for people of all nations to become disciples of Jesus, so that as they follow him, they might join us in making more disciples of Christ.
We aim for our church services to be easy to understand for unbelievers so that as they hear the Good News that saves, they also experience the joy of gathering around Christ.
We actively recruit gospel workers to be ministers of God's word in our diocese and across the world, in churches and other strategic contexts.
We strategically train gospel workers through ministry apprenticeships and placements as we partner with training institutions to pass the baton of leadership.
We joyfully send people from our church to gospel harvests across the globe, as we aim to share the resources Christ has given us to build his church.
We prayerfully support missionaries who partner with us in this mission across the globe, as we generously support their financial needs.
We seek to develop ministry models and resources that can be shared with other churches in rural and regional contexts.
Knowing that the gospel is the power of God that brings salvation to everyone who believes, we encourage and support every member of our church to confidently and naturally talk about Jesus at every opportunity.
God's mission is our mission, and it is a privilege and a joy to know Christ and to make him known.
JODIE McNEILL
https://jamberooanglican.com/wp-content/uploads/2016/04/MainJamberooAnglicanLogo3-01-300x85.png
0
0
Jodie McNeill
https://jamberooanglican.com/wp-content/uploads/2016/04/MainJamberooAnglicanLogo3-01-300x85.png
Jodie McNeill
2020-08-14 13:13:54
2020-08-17 17:40:49
We are Missional