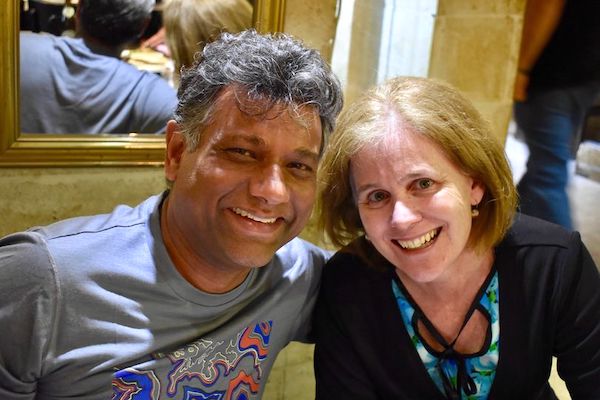 Kanishka Raffel is the Archbishop-elect of our Diocese of Sydney, who was unanimously elected after a three-night selection process involving nearly 800 representatives of our Anglican churches and organisations.
He is currently the Dean of Sydney, namely the senior minister of St Andrew's Cathedral, where he has served for six years, having previously led a large church in Perth for 16 years, having studied at Moore and served in Sydney and Canberra.
Kanishka is married to Cailey, has two adult daughters, and is aged 56.
Born to Sri Lankan parents in London, he and his family emigrated to Australia from Canada in 1972, where as an adult, he converted to Christ from Buddhism.
I have had the privilege of working closely with Kanishka as I serve as a member of the Gafcon Australasia 2021 Conference committee which he chairs, and I have witnessed first-hand his passion to proclaim Christ faithfully.
As a speaker, he has shown himself to clearly teach the Bible and to lead people to know Jesus better, as he stretches the minds and warms the hearts of the listeners, in obedience to the powerful word of God.
In his speech of thanks to the Synod, he showed his servant heart:
You have elected a weak servant, and you too, are but weak servants.  But we have a mighty Saviour – full of grace, sovereign, sufficient, supreme; having the supremacy in all things so that through him God was pleased to reconcile all things to himself  by making peace through his blood shed on the cross. If I can make a pledge it is this – to stand at the foot of the cross, weak, dependent and forgiven, and from there to seek to serve, as he enables.
Please pray for Kanishka as he prepares for the Inauguration on the 28th May, when he will commence this new ministry to us and with us as our Archbishop.
JODIE McNEILL
https://jamberooanglican.com/wp-content/uploads/2016/04/MainJamberooAnglicanLogo3-01-300x85.png
0
0
Jodie McNeill
https://jamberooanglican.com/wp-content/uploads/2016/04/MainJamberooAnglicanLogo3-01-300x85.png
Jodie McNeill
2021-05-07 16:44:33
2021-05-07 16:44:33
Introducing Kanishka