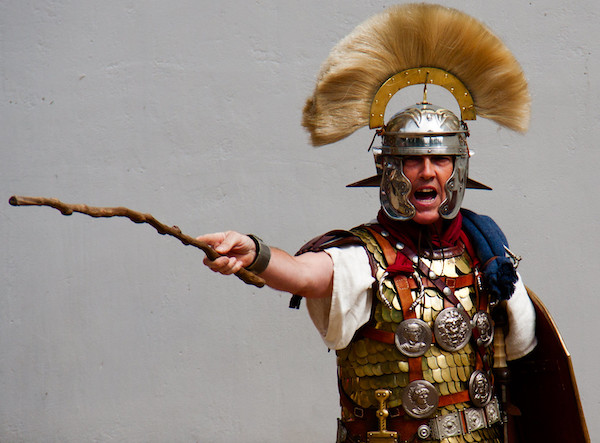 What does the Bible tell us about leadership?
In Luke chapter 7 we meet one of the great leaders of history.
He was a centurion, a well-paid, well-respected Roman officer who led a company of a hundred soldiers.
But sadly, one of his slaves was about to die, and so he sent some religious leaders to go and get Jesus to come and heal his slave.
But as Jesus approached, the centurion sent a message to tell him, "Lord, don't trouble yourself by coming to my home, for I am not worthy of such an honour." (Luke 7:6)
Why would the Roman centurion call for Jesus and then turn him away?
It was because he recognised that he was in the presence of a truly great leader, for he said, "I am not even worthy to come and meet you. Just say the word from where you are, and my servant will be healed." (Luke 7:7)
The centurion recognised the greatness of Jesus, and he knew how unworthy he was in comparison.
But he also knew that when a commander makes a command, then it happens.
This impressed Jesus greatly, for, "when Jesus heard this, he was amazed. Turning to the crowd that was following him, he said, "I tell you, I haven't seen faith like this in all Israel!" (Luke 7:9)
The Roman officer recognised that Jesus was Lord of the universe, and he also knew that he would use his power to perform an act of great mercy and kindness.
And the trust in Jesus paid off, for, "when the officer's friends returned to his house, they found the slave completely healed." (Luke 7:10)
The centurion knew the true leader, and he trusted the true leader… and his trust in Jesus paid off.
Great leaders submit to greater leaders… and the greatest leader is Jesus.
JODIE McNEILL
(Photo credit: Hans Splinter via Flickr.com)
https://jamberooanglican.com/wp-content/uploads/2016/04/MainJamberooAnglicanLogo3-01-300x85.png
0
0
Jodie McNeill
https://jamberooanglican.com/wp-content/uploads/2016/04/MainJamberooAnglicanLogo3-01-300x85.png
Jodie McNeill
2021-05-27 20:59:29
2021-05-27 20:59:30
Great Leadership