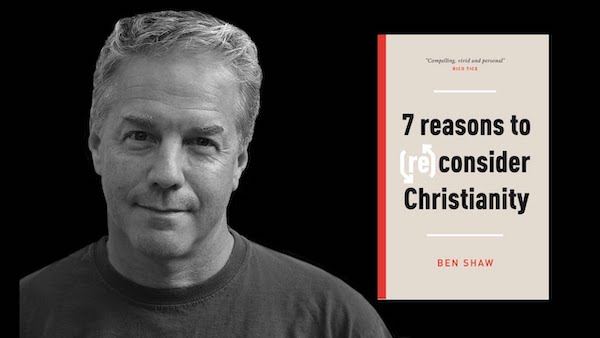 This week on holidays I read a short book called 'Seven reasons to (re)consider Christianity' by musician, minister and author, Ben Shaw.
As I read it, I was struck again by how much sense it makes to be a Christian and to follow Jesus.
For his seven chapter titles, he says that people should (re)consider Christianity because:
it's worth thinking through what life is really all about;
Christianity is a lot more intellectually credible than you might have assumed;
Christianity is about life to the full;
Christianity gives a compelling answer to the question, "What's wrong with the world?";
Jesus is arguably the most influential person in history';
the death of Jesus is surprisingly very good news for you, and;
if Jesus really did rise from the dead, then it would confirm everything.
Each of the chapters give a simple and powerful explanation of why those facts are true, and in particular, why the resurrection of Jesus is the foundation for everything we believe.
Yet, whilst I think his arguments powerfully defend Christianity, the words of the epilogue bring a real, human dimension to his passioned plea to follow Jesus:
"Having death on my very own doorstep has forced me to do a serious reassessment of my faith, including everything I've said in this book. […] Yet in the end, far from having been shaken, I can honestly tell you that having this life-threatening illness has actually sharpened and increased my faith. As I stare at the possibility of an early death, I am, in fact, more confident than ever in these things."
Last week Mandy and I watched the livestream of his funeral, as Ben passed away aged 52, having died from cancer of the jawbone.
Now he is with Christ, which is better by far, and his faith has now been turned to sight.
And the book he leaves us is a wonderful legacy that we pray will lead others to know the hope that has led him to paradise with his saviour, Jesus.
JODIE McNEILL
https://jamberooanglican.com/wp-content/uploads/2016/04/MainJamberooAnglicanLogo3-01-300x85.png
0
0
Jodie McNeill
https://jamberooanglican.com/wp-content/uploads/2016/04/MainJamberooAnglicanLogo3-01-300x85.png
Jodie McNeill
2021-07-01 21:40:54
2021-07-01 21:40:54
(Re)considering Christianity