Jesus Walks Us Through Death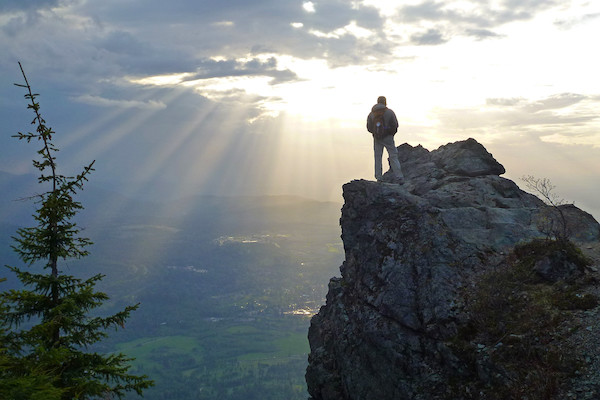 Three years ago I had an oesophageal cancer removed.
I had hoped that was the end of it, but last Friday I was informed that my cancer has returned, and it's spreading.
Initially I was in shock, but then shock gave way to sadness, and after sadness I found thankfulness.
I'm sad to have to say farewell sooner than I expected: to my family, to my Christian family, and to God's beautiful world.
But I'm thankful that when I was 20 years old, and heedless and ignorant of God, he laid his hand on me.
I am foreknown, predestined, called and justified by God (Romans 8:29), and I will be glorified.
I'm thankful he gave me Lesley, and for the privilege of many years of ordained ministry, amongst a multitude of many other things.
In the imagery of Psalm 23, the Lord who is the shepherd walks with his sheep through the valley of the shadow of death.
The Christian meaning of this psalm is that Jesus, who is revealed as the good shepherd, walks us through death, as the one who died for our sins.
Then the psalm moves to the imagery of a banqueting table set up by God, which is surely a picture of table fellowship with him in heaven.
How do people face death without God?
There's euthanasia, of course, which is a tragic attempt to try and stay in control and chose when to exit.
Then, there's the 'Thanksgiving Memorial Service,' where a lineup of family and friends praise your achievements.
But one of the wonderful things about our late queen's funeral was that she was the one person of whom an endless list of celebrities could have truthfully praised her.
But instead, she chose for us to have a simple service in the Abbey of hymns, Bible readings, prayers, and a sermon.
When the time comes, that's what I want… minus the pomp and ceremony, of course!
It's hard to be told the cancer is back, but we'll keep praying and seeking treatment, as we give thanks to God for your love, support and prayers through this difficult time.
GRAHAM ERRINGTON
(Photo credit: brewbooks via Flickr)
https://jamberooanglican.com/wp-content/uploads/2023/08/Jamberoo-Anglican-2023-Website-Logo3.png
0
0
Jodie McNeill
https://jamberooanglican.com/wp-content/uploads/2023/08/Jamberoo-Anglican-2023-Website-Logo3.png
Jodie McNeill
2022-09-23 11:05:55
2022-09-23 11:05:58
Jesus Walks Us Through Death