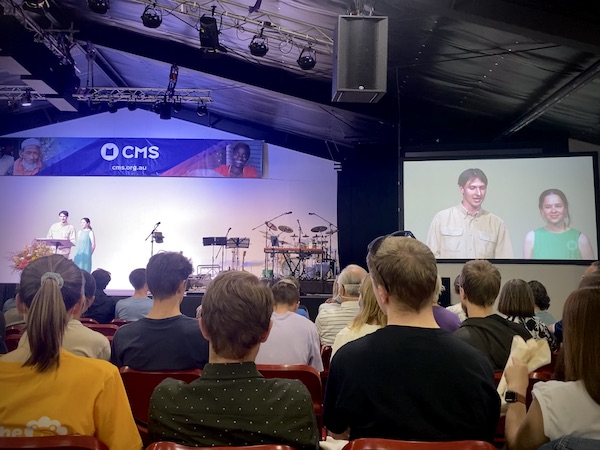 As I gathered with thousands of believers at the recent Church Missionary Society (CMS) Summer School in Katoomba, I experience afresh the joy of looking beyond ourselves with a global, gospel focus.
Missionaries from all over the world were sharing about the triumphs and the tragedies of bringing the message of Jesus to peoples from significantly different cultures and languages.
And even as they paid the personal price of proclaiming Christ in faraway lands, we heard the wonderful news of how the message of Jesus continues to bring genuine hope to a world that is in darkness.
Yet, our mission focus is not only to the nations beyond our shores: for we also partner with and support churches doing ministry in Australia.
Some of the missionaries with CMS are based in Northern and North-West Australia working in ministry with and to Aboriginal Christians from Broome across to Groote Eylandt.
But in Australia we also have a long-standing partnership with Bush Church Aid (BCA), which seeks to bring the gospel of Christ to the outermost parts of Australia.
Their vision is to develop a new generation of culturally-diverse Christian leaders, both young and old, and to support ministry by Aboriginal and Torres Strait Islander people as they, "are committed to working with our first peoples so they can serve Christ in ways that are Biblically faithful and culturally appropriate."
Plus, they seek to plant and renew sustainable churches, like their support of Roger and Amanda Kyngdon in Newman, Western Australia, with whom our church partners.
As we consider ministry near and far, it is a joy to hear of how the gospel of Jesus is bringing real change to the lives of people who live far away from the main population areas of our land, and who have the same need to know Jesus as every Australian.
JODIE McNEILL
https://jamberooanglican.com/wp-content/uploads/2016/04/MainJamberooAnglicanLogo3-01-300x85.png
0
0
Jodie McNeill
https://jamberooanglican.com/wp-content/uploads/2016/04/MainJamberooAnglicanLogo3-01-300x85.png
Jodie McNeill
2023-01-24 09:02:38
2023-01-24 09:02:41
Mission Near and Far