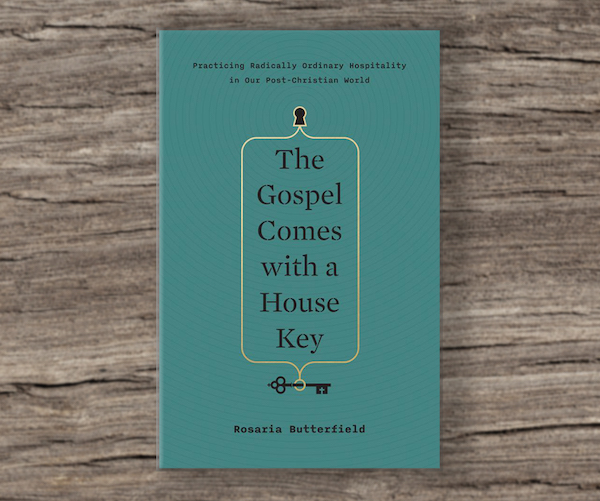 In her book, 'The gospel comes with a house key,' Rosaria Butterfield shares how she became a Christian through the hospitality of an older Christian couple who opened their home, shared their lives, and showed her Jesus.
She was unchurched and hostile to Christians, but God used that hospitality to lead her to Christ.
Hospitality is so powerful for evangelism, and that's because God showed us hospitality, first!
He welcomed outsiders when he invited us to belong to his family and become part of his people… all while we were his enemies.
His divine hospitality was seen most clearly through the gospel of the Lord Jesus Christ, who came to reconcile us to the Father.
In her book, Rosaria said that hospitality seeks to make, "strangers neighbours and neighbours family of God."
That kind of hospitality is deliberate, intentional and relational…. and a little daunting.
But her wise advice was to just, "start somewhere, start today," and I thought, "I can do that!"
All I need to do is to keep getting to know people… starting small, but starting now.
And I was reminded that evangelism so often happens in the context of personal relationships.
It made me think of my role as a school teacher, and how I invite students to bring questions and doubts, as they learn and inquire.
You'll have similar opportunities with your work colleagues, family, community contacts, and other connections in life.
It is such a wonderful privilege and an amazing opportunity for us to speak the gospel, and live it out in the lives we share with others.
As we head into Easter, let's pray that God will help us share the love of Christ with everyone we connect with, and that he will bring many people to know and love Jesus as Lord and Saviour.
MANDY McNEILL
https://jamberooanglican.com/wp-content/uploads/2023/08/Jamberoo-Anglican-2023-Website-Logo3.png
0
0
Jodie McNeill
https://jamberooanglican.com/wp-content/uploads/2023/08/Jamberoo-Anglican-2023-Website-Logo3.png
Jodie McNeill
2023-03-10 11:02:30
2023-03-10 11:02:33
Divine Hospitality