A Kyck for Christ at Katoomba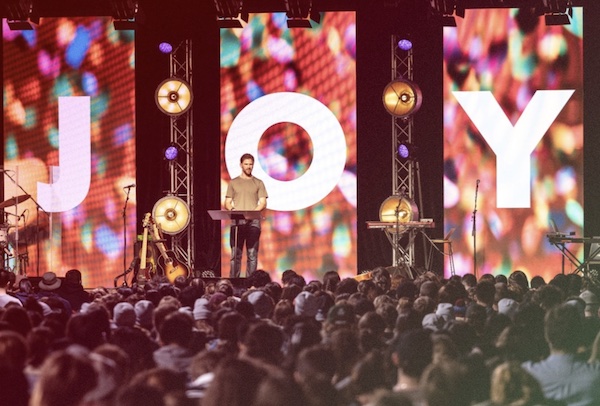 Last weekend, 30 youth and leaders from Jamberoo Anglican headed up to the Blue Mountains to attend KYCK, a conference for high schoolers.
From Friday night until Sunday lunchtime, we gathered together with over 2000 other young Christians.
We 'enjoyed' the famous Blue Mountains cold and rain for the purpose of meeting together with youth from churches around the state, sitting under God's word together and singing praises to him.
Over the 6 sessions of the weekend, we looked at the book of Philippians, and particularly thought about the theme of 'Joy'.
We were encouraged by Paul's words and example of joy, writing about being confident in the supremacy and love of Christ, even as he penned those words from a prison cell.
Philippians 3:6-7 reads 'Do not be anxious about anything, but in every situation, by prayer and petition, with thanksgiving, present your requests to God. And the peace of God, which transcends all understanding, will guard your hearts and your minds in Christ Jesus.'
Joy according to Philippians looks like having confidence in Christ, and being 'stoked on Jesus despite circumstances.'
For a Christian, we can always have joy in Christ whatever situation we find ourselves in.
Joy exists alongside day-to-day emotions like happiness or sadness.
Paul's situation in a Roman prison was hardly a happy experience, but he was so joyful in Christ.
Paul knew his eternity was secure with Christ, so he could remain full of joy.
Nearly 2000 years later, that truth remains the same for us.
If we have a relationship with Jesus, Romans 8:31-39 reminds us that nothing in all creation can separate us from the love of Christ.
My prayer for us is that we keep leaning into our relationship with Jesus, and keep discovering the peace of God, which transcends all understanding.
That's something to be joyful about.
BRAD VIDILINI
https://jamberooanglican.com/wp-content/uploads/2016/04/MainJamberooAnglicanLogo3-01-300x85.png
0
0
Jodie McNeill
https://jamberooanglican.com/wp-content/uploads/2016/04/MainJamberooAnglicanLogo3-01-300x85.png
Jodie McNeill
2022-04-28 18:22:47
2022-04-28 18:22:50
A Kyck for Christ at Katoomba